Today we're going to look at how to create killer SEO for your website. There are many things we can do to to improve SEO, and we're going to take a look 5 strong tactics to make your website rank higher.
1. Write a blog on your website, & provide value with social media.
Having a blog on our website is great for SEO. A blog keeps the website abundant with fresh content. It creates many more pages on your site that provide value to people. Providing value is an excellent way to get people's attention. If you are searching Google, there's a great chance that you will click on an article if you think it may answer some of your questions, so make sure to think of questions that your customers have, and write blog posts answering those questions! A blog post is also a perfect opportunity to add images and external links to your site, which also improve SEO.
Social media is one of our strongest tools when it comes to driving traffic to our site, and providing value to people in relation to our business is an excellent way to build trust and comfort with people who are interested in what we're providing, whether it's a product, service, or our opinions. We want to be posting on social media every day, making sure to provide value to people, and to follow and reply to others. Eventually we will gain a substantial following, and this will drive more traffic to our website. Not to mention, including our website link in our social media profiles and posts will boost SEO as well. Gary Vaynerchuck, founder of Vayner Media, advocates posting 100 peices of social media content a day!
2. Add internal & external links.
Another way we can improve our website's SEO is by adding links to our website. Adding internal links makes our pages richer, and helps the user to find relevant content within our site, without having to scroll to the top or bottom of the webpage.
External links will help your SEO as well. Search engines pick up on external links, and it is especially beneficial to place the links on a string of words, rather than just as standalone URL addresses or on some "Click Here" text. For example: "Reasons why it's great to add links to your website".
3. Accelerate your page loading speed.
Google knows if your page is taking too long to load, and this will hurt your search rankings. Fortunately, Google provides a free tool called Google Lighthouse that's built into every Google Chrome browser, for you to test the page load speed of your site, and see exactly the factors that are affecting it. To use lighthouse on your website, simply open up the page in Google Chrome, press "ctrl+J", and then navigate to the "Lighthouse" tab of the chrome developer console, as shown below: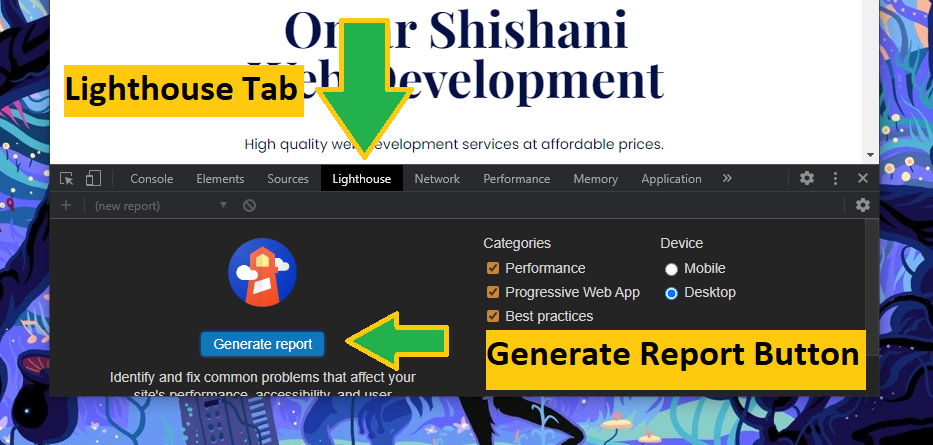 The generated report will tell you step by step how to improve your site's page speed. Some main factors that can come into play for page speed are:
Images

Images are often too large, especially if care has not been taken to size them properly. The image doesn't need to be any larger than it appears on the screen. In addition, it may be a good idea to serve mobile users with differently sized images, because mobile users are more likely to zoom in and examine a picture.

Server response time

The time it takes for the server to respond to the page request depends on your hosting provider, and the hosting plan that you are purchasing from them. If the hosting time is very slow, it may be worth it to switch hosting providers, or to upgrade your plan.
4. Think about keywords when making headings and titles.
Keywords are a huge part of SEO, so you want to keep this in mind when writing your titles and headings on your website. You don't want to load up your pages with keywords that bog down your message, however, as this will annoy the user and even hurt your SEO, as search engine algorithms can identify keyword-loading. Keep the user in mind first when you write titles, but also don't hesitate to use words that identify your content better. This should be an improvement both for the user and for your SEO.
5. Use images, videos, and slideshows on your site.
Richer content for your site will not only make it more enjoyable for the user, but it will cause search engines to rank your site higher. In addition to having rich content, make sure you add things like "alt" text and titles to your images, to help your SEO. This will please the search engine, and help put you in a better position.
---
Remember that it takes time to build great SEO for your site, and there is a ton of global competition for the #1 spots! So be patient, and remember to put out lots of content, and make sure your site is fast and user-friendly, to get your best shot at being found on Google. If you're getting started building your website, check out my blog post, 5 Awesome Questions to Ask Before Creating Your Website.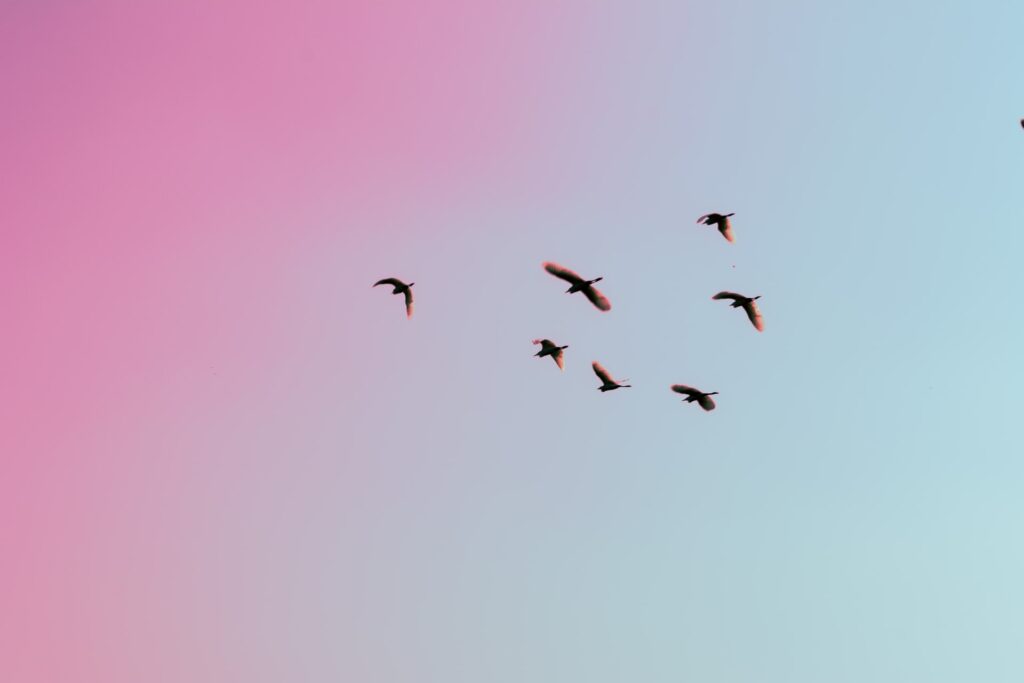 Parrots photo by Sid Balachandran on Unsplash
Birds in Flight photo by Gauravdeep Singh Bansal on Unsplash